Rewards have never tasted this good!
We love our customers and it shows. The Halal Guys Rewards Program offers our customers unprecedented perks from the moment you register. Enjoy a free fountain drink and side with the purchase of a sandwich or platter after signing up.
Other benefits include:
Free Platters
A Special Birthday Treat
Exclusive in-store specials and offers for our Rewards Members
Download our mobile app today and start earning free Rewards.
Tell you more, you say? Check out our FAQ's below:
EARN POINTS
Once you have downloaded and created an account on The Halal Guys app, locate the "earn points" section on the home screen.
SCAN
After you select earn points, cashiers scan your unique QR code during checkout.
You also have the options to "scan barcode" and "enter barcode manually" for the barcodes located on the bottom of receipts.
*Receipt barcodes expire after 4-hour window and any potential points will be lost
*Please allow up to 12 hours for points to update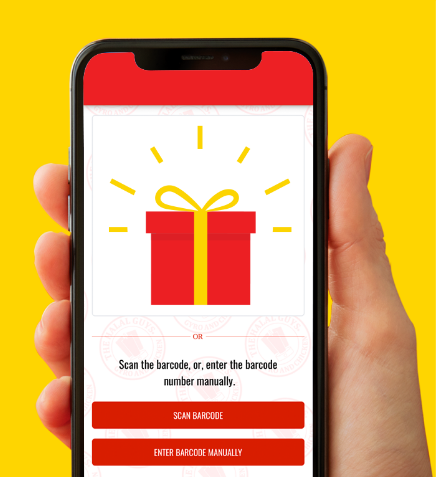 CHA-CHING!
Points earned can be saved or used for delicious menu items.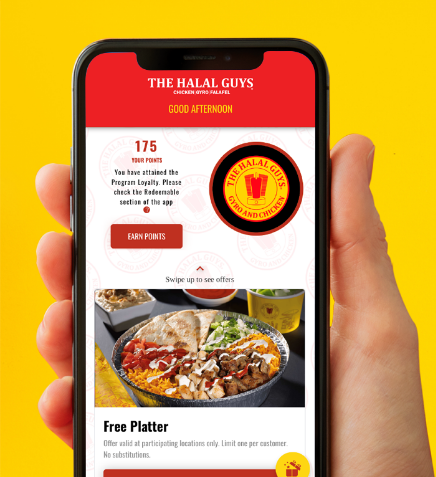 LOCATE OFFERS
Offers will appear in your home screen or in a separate tab via the gift box icon.
REDEEM
Press "Redeem" and present the QR code to the cashier for scanning.
ENJOY
A mouthwatering experience from The Halal Guys!
FAQs
What rewards can I earn?
As a registered member of The Halal Guys Rewards App, you can earn free drinks, desserts, sides, sandwiches, and platters as well as special exclusive offers!
When do I get my free rewards item?
As shown in our "How Points Work" section, rewards become accessible after accruing a certain number of points. You have the freedom spend your point on items at lower thresholds or hold on to them until you're able to redeem a free platter.
Why should I register?
Because only guests with a The Halal Guys Rewards Account can earn points towards a free Rewards items! You already love the food…why not get rewarded for it? Simply head over to our app and register to get started today! (oh, you also get a free side and drink when you purchase a sandwich or platter for registering)
How do I redeem my free platter?
You have earned enough points for a free platter? Congratulations! Now go to your favorite restaurant or order online using your The Halal Guys App.
Do my rewards points expire?
Rewards points expire after 6 months of inactivity and/or a year after they were earned.
How do you migrate to the new The Halal Guys App?
Make sure you have the most up to date The Halal Guys app. After you have the newest version please select "YES" when asked to migrate your loyalty points and rewards. You will need your old rewards card number handy. If you are experiencing any difficulties with this process please email rewards@thehalalguysny.com and we will be happy to assist.
Can I get points from expired receipts or invalid QR codes?
If the receipt has passed the time allotted to scan for points unfortunately you will have missed your opportunity this time to earn points. For invalid QR code errors, please email rewards@thehalalguysny.com for further assistance.
I've Activated An Offer In The App. How Do I Redeem The Offer?
As shown in our REDEEM section, you can copy code displayed beneath QR Code and use it as a coupon code at checkout. OR you can head to one of our stores to redeem within the allotted countdown time if that is more convenient.
How Do I Redeem An Offer Within The App?
Make sure the redeemable offer has not been activated in the app. Go straight through to the process of ordering what you would like from our online menu and proceed to the payment page at checkout. Select REDEEM under AVAILABLE OFFERS, select the applicable item, and hit APPLY to confirm and follow next steps to complete the ordering process.
How Do I Add A Physical Gift Card To The Mobile Wallet?
In the gift card tab, select ADD GIFT CARD and select ADD EXISTING PHYSICAL GIFT CARD. From there you can choose your preferred gift card design from several of our beautifully curated options. Hit NEXT and follow the final instructions on adding card details to complete this process.
Disclaimer: If you have one of our old physical gift cards, you can still add them to the mobile wallet by following the steps below:
Send us an email – rewards@thehalalguysny.com with the old active gift card number with balance.
A new gift card balance will be sent to you with your active balance
Enter the new gift card number (this card will have current balance on old card) received from email above.
Use last 4 of 6 digits displayed on the back of your old gift card as a PIN when requested and follow steps to add gift card to mobile wallet.
How Do I Notify The Store When I Have Arrived For Curbside Pickup?
Locate your recent order under the ORDER tab, select your current order in the app and hit I'M HERE to send a custom message to the store upon your arrival.
One of our designated Team Members will receive this information and will contact you accordingly based on your order request.
Where Are My Points From My Recent Order?
You can track your activity history in the app selecting MORE at the bottom right corner of the homepage. Select ACCOUNT HISTORY and you can view all recent activity and points accrued.
Can I Redeem Two Or More Offers At The Same Time?
No, you can only redeem one offer at a time per check/order.
How Do I Redeem My "Free Side & Drink With The Purchase Of A Platter Or Sandwich"?
Very simple; first make sure you a platter or sandwich of your choice is in the cart. Add any available side item(s) and/or drink(s) of your choice to the order. Next, redeem the offer by selecting FREE SIDE & DRINK (WITH THE PURCHASE OF A PLATTER OR SANDWICH) from the available offers during the payment stage at checkout (refer to HOW DO I REDEEM AN ITEM WITHIN APP for more information).
You can add any additional menu item(s) to this order. Just be aware that you will have to pay for these items separately apart from the Free Side & Drink offer.
WHAT ORDERS ARE ELIGIBLE TO EARN POINTS ON?
All orders placed in-store or through The Halal Guys app (for pickup or delivery) are eligible to earn points. Unfortunately, catering orders, family meal orders or orders placed on 3rd party delivery apps (i.e. UberEats, DoorDash, Postmates, etc.) are not eligible to earn points.